THE ALEXANDRIA RISING CHRONICLES CONTINUES!

ALEXANDRIA REBORN
Alexandria Reborn – the long-anticipated sequel to Alexandria Rising – is out and available now. I had a grand book tour launch in August and have been staying busy. You can discover more on the books and the series at, www.alexandriarising.com or the amazon link.
ALEXANDRIA RISING
2017 Finalist for Independent Author of The Year
2017 Georgia Author of The Year nominee
"I cannot thank you enough for giving me an opportunity to read your creation and becoming a part of this world!" – PS I LOVE THAT BOOK
"It was written very, very, well. The characters are deep and well laid out. The storyline is fascinating and told a magical and dangerous tale." – BOUNDLESS BOOK REVIEWS

Rand O'Neal, an ambition-less newspaper reporter, is given a single task upon the death of his grandfather: Destroy a mysterious map. What should be a simple errand thrusts Rand into a journey where he discovers humanity's biggest secret. The novel has been reviewed as, "Superb," "Amazing" and "Extremely well written" and has drawn comparisons to Dan Brown, Robert Ludlum, James Patterson. The book is labelled an action adventure, but contains elements of science fiction, suspense and mystery.  It is also linked to a multi-media website which allows readers to engage with the experience in video, images and interactive appendices.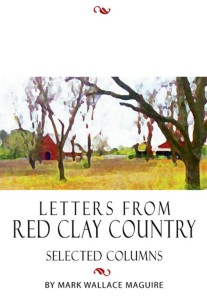 "Letters from Red Clay Country,"  is a selection of more than 20 of my most-loved columns and essays on Southern culture that were published in newspapers and magazines throughout a 10-year period. This collection includes award-winning columns about faith, fatherhood, football and family and has been described as, "A love letter to Southern culture and a reminder that there is much more to it than rednecks and rebels."
You can purchase it at select shops in the metro ATL and here on  amazon
Here is what people are saying about, "Letters from Red Clay Country."
'All in all a marvelous compilation' – Joseph E. Dabney, author of Mountain Spirits and James Beard Cookbook of the Year Award winner Smokehouse Ham, Spoon Bread, and Scuppernong Wine.
'Its brilliance is in its brevity and ability to touch the heart'- 

Allen

Bell

, author, cultural omnivore, and Arts Education Manager at Georgia Council for the Arts