October 2017
Very honored to be named as a finalist for Independent Author of The Year. The first year of The Alexandria Rising Chronicles has been very
exciting
. Thanks to all for your support and encouragement!
October 2017
Good day, I have a host of changes on the horizon thus the rather dormant state of this site. All said, I will have some announcements soon. In the meantime, feel free to follow what's happening over www.alexandriarisiing.com
August 2017. 
What's the word hummingbird? Well, Alexandria Reborn dropped in early August. You can follow all the news, plus the latest reviews and book tours and signings on the
Alexandria Rising Chronicles over here
.
I'm also involved in a very exciting musical project and we have updates
over here.
Staying busy. More later. Take care.
Summer 2017
I am having some issues with broken links here and some pages uploading and routing to odd pages. Bear with me as I work this out. Thanks, MWM
Summer 2017
What's up? Busy with book signings and the sequel to 'Alexandria Rising' coming out in August.
March 22, 2017
What a fantastic month of reviews, raves and reader interaction for 'Alexandria Rising.' The popular review site, PS I Love That Book gave the book a 5 star rating. You can read the review
here
 where the reviewer said, "I would highly recommend this book for anyone who likes adventure and mystery books!"
Work is underway for the sequel as well as the musical companion, "Alexandria Rising Rhythms" which is slated for a summer release.
February 12, 2017
Lots of positive press on the book lately from newspapers and blogs – links at the bottom. The most creative interview I've ever been involved in is
here
 at best-selling author A.F. Stewart's website where my chief antagonist, Kent St. James, is interviewed. Big thanks for Ms. Stewart for this superb opportunity.
January 13, 2017
My novel, Alexandria Rising, is continuing to get grand reviews from independent book reviews, Goodreads and on amazon. Boundless Book Reviews dubbed it, "It was written very, very, well. The characters are deep and well laid out. The storyline is fascinating and told a magical and dangerous tale. It seemed to be open ended so maybe a sequel is to come. I really hope so. This was a great read and one I will definitely be looking forward to recommending."
You can follow all the progress on the book's website and on my Facebook author page.
Want to get meta with your art? Layers upon layers, rings inside rings, riddles inside of secrets? After you read 
Alexandria Rising
 you can visit the book's website, 
http://alexandriarising.com
 and engage in interactive appendices about characters and locations. The website also contains links to videos relating to the book and you can follow clues and concepts related to the book on instagram, youtube and Facebook. So, go ahead, give it a click. Have some fun.
November 2, 2016
We are a couple of weeks into the release of
'Alexandria Rising
' and have already racked up 8 Five Star reviews on amazon and mailed requested copies to book reviewers from Lithuania to Lincoln. You can follow progress on my author Facebook page where I will also have some nifty giveaways.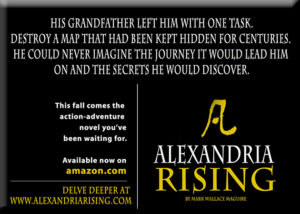 My action-adventure novel,
"Alexandria Rising" 
was published last weekend and, needless to say, I am very excited. This has been a 3 1/2 year journey with lots of stops and starts, and unexpected life changes and writes and rewrites and all the other good – and tiring, but integral – stuff that goes into producing a book. I couldn't have done it along the without several people including Steve Geyer, Allen Bell, Paul Cantrell, Adam Miller and my family, near and far. You can learn more and order the book by clicking the link above which goes straight to my amazon page. You can also visit the book's homepage 
http://www.alexandriarising.com
 and check out the cool trailers on youtube, my author Facebook page and more.
July 20, 2016
New trailer up for 'Alexandria Rising.' Check it out to get a taste of what is to come –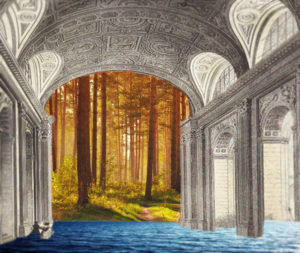 July 11, 2016
Getting press and publicity lined up for the publication of my novel, "Alexandria Rising" which is published this fall. You can get a sneak peek, clues and other info by following the book on Facebook, instagram, youtube and, of course,  its webpage, 
here.
May 2, 2016
I was honored to take part in a podcast commemorating the 75th anniversary of the publication of the first "Screwtape Letter" by C.S. Lewis. I have been a Lewis scholar for years – even though I tend to express it through my musical projects – and was enthused to be part of this broadcast. I could write about this at length, but you can go direct to the podcast below. A big thanks to William O'Flaherty for the opportunity.
 January 19, 2016
Apologies for the lack of musings as of late, I've had a wave of chaos since my bicycle accident in late October.
November 22, 2015
Note: This is an excerpt from my book, "Letters from Red Clay Country."
THANKSGIVING starts with a bang
My family usually celebrates Thanksgiving at my grandmother's home in Thomaston, a small, Norman Rockwell-esque town located in the serene pasture and hill country between Macon and Columbus.
At 84, my grandmother not only cooks several dishes, but still has the unique talent of assigning holiday tasks. As far back as I can remember, I have been charged with a variety of jobs including chopping celery, stirring gravy, taking out the trash, setting out tables, setting the table and, my new personal favorite, staying out of sight until the meal is ready.
Thanksgiving is not one of my favorite holidays. Not quite up there with, say, Christmas or St. Patrick's Day. But, it is one of those increasingly rare days when the family can just stop and spend time together.
Despite the change time brings to our lives, there are always certain traditions to fall back on as predictable as my grandmother having the Macy's parade turned on the TV when we walk through her front door. With two preachers in the Maguire family, you are guaranteed to hear a solid prayer before dinner and if my Aunt Lisa isn't filling in as a nurse at the hospital you are guaranteed to drink the best iced tea in the State of Georgia. In fact—as blasphemous as this sounds for a Southerner—it's so good that it's about the only iced tea I drink all year.
Sometime after the eating and the fellowship have ended, another tradition takes place—a football game among the cousins. With only two females born into the Maguire line in the past 80-plus years, the testosterone and trash-talking are easy to come by. Harder to come by is a football, but somehow a ball is always found and soon grown men are hurtling it through the crisp November air, trying to summon the strength and stamina of their youth.
I will probably throw a few respectable passes and make a few decent catches. Even more probable is the fact that I will stumble, run out of breath and, after a couple of games, forgo further embarrassment to engage in a sport at which I really excel—pie eating.
As the afternoon deepens into evening and the family thins out, we'll load the kids in the car and drive those haunting middle Georgia highways north toward I-75. As we pass pecan groves lit by lonely lights and old churches whose steeples pierce the chilly night, the afternoon's soreness will set in and I will inevitably confess to my wife, "I really shouldn't have done that…again."
With apologies to T.S. Eliot, this is how Thanksgiving usually ends, not with a bang, but with a whimper.
November 13, 2015
Of me and bikes and Bono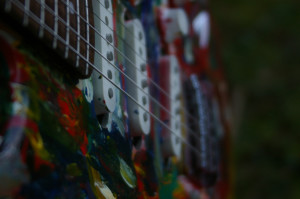 I've gotten quite few quips about my bike accident since it occurred in late October. (I am still on the mend in writing this in Dragon speak so it will not include my usual verbosity and nuances). Most of the jokes are about how I've become very accident prone the last five years or so. Unfortunately that is quite true as I've suffered more injuries in the last five years than the last 15 before that combined – yes, for those counting at home I'm around 15 broken bones now. For what it is worth, they are at least wholesome injuries which is a blessing and a curse. Most of them have to do with my sons being involved, which might make me look good as a father, though I would rather have the reputation as a fierce fighter and not a clumsy washtub overweight one-time athlete.
The other quips I've gotten have been about me and Bono and our connections. As my friend Michael said the other day, "What is it with you musicians and your bicycles?" For those of y'all who don't know, me and Bono have quite a bit in common. Many things. For example, we've both been in the Georgia Dome. We've both been on a plane. We both also like U2, Guinness, Amnesty International, the Psalms, have spent some time in North Dublin and have recently sustained bike accidents.
Since my bicycle accident, I have spent a lot of time in my head which is never a good place to be when one is thinking over Calvinism, free will, cosmology and such combined with a healthy dose of Percocet and oxycodone. That said – forgive my self absorbtion –  I concocted a top ten list of how Bono and I are tied together.
Bono had his bicycle accident while wearing a leather jacket – so rock 'n roll. I had my bicycle accident while wearing paint-splattered track pants from Walmart – so redneck and roll.
Bono wishes he was an American. I wish I was an Irishman.
Bono had long hair and wore leather trousers in the 1990s. I had long hair in the 1990s and think no one should ever wear leather trousers, with the exception perhaps of Jim Morrison.
Bono recovered from his bike injury in the South of France. I am recovering from my bike injury south of Atlanta.
People say Bono is too preachy. People tell me I'm not preachy enough and tend to hide behind apologetics and diplomacy.
Bono always says U2's next album will be there best. I still think their best albums were from 1979 to 1983.
After his bicycle accident Bono said he might never be able to play guitar again and that is no loss to Western civilization. After my bicycle accident, I said I will play guitar again, dadgum it, and I think Western Civilization was a great class.
People hate Bono because he's rich and does lots of visible charity work. People hate me for lots of reasons but not because I'm rich, though when I do charity work I tend to be a bit of a smart arse and can rub people the wrong way.
Bono is very confident in his faith. I struggle with my faith every minute.
Bono joked about his bike accident on Jimmy Kimmel. I am too tired to stay up that late to watch Jimmy Kimmel and I have run out of jokes.
Now, back to listen to the second side of Songs of Innocence, which is some of their best work since '83.
October 7, 2015
Note: This is an excerpt from my upcoming book, "Letters from Red Clay Country" which is being published Oct. 17. I felt it timely to re-run with The Dawgs facing The Vols this weekend. 
Remembering Larry Munson
I was privileged enough to be at the UGA-Kentucky game this past weekend when the Dawgs clinched the SEC East and punched a ticket to the conference title game.
It was a beautiful day, perhaps the best football weather I've ever experienced in over 30 years of watching the Dawgs play in that paragon of a beautiful stadium. The sun broke through a chilly overcast morning and gave us a dazzling sunny afternoon where by the end of the first half, many of the fans around me were shedding coats and sweaters to bask in the September-like warmth.
Halfway through the first quarter, I noticed starting tailback Isaiah Crowell wasn't running anymore and back-up Carlton Thomas, who the week prior had notched a career-high game, was not on the field either.
Instead, the small, but speedy Brandon Harton had lined up in the running back spot.
My friends and I discussed it briefly.
"Had anybody seen anything?"
"Could you see what is going on down at the sidelines?"
"I didn't see an injury, did you?"
That was when I turned around in my seat and tried to spy anyone with a pair of earphones and a radio listening to the game. My search turned up nothing. I turned back in my seat and announced to my seat mates.
"Funny. Growing up, half of the men here would have earphones on so they could listen to Munson call the game and I could ask one of them to get the scoop. Now, I guess I will have to wait until someone dials up something on their phone."
That observation sums up the devotion UGA fans had to longtime Dawg broadcaster Larry Munson for years. Going to UGA games growing up, it was par for the course to see hundreds of fans show up at Sanford Stadium with not only their red and black donned, but with radios and earphones as well so they could listen to the voice of the great broadcaster
And though Munson left the booth a few years ago, that is why his death earlier this week still had folks across the state and the nation sharing tributes and memories of the man and his amazing talent.
I wanted to capture a bit of that in this column, but it isn't easy.
It is simply tough to communicate words about a communicator of words. It just doesn't feel right in a way, but I would be missing an opportunity to salute a great man if I did not.
Munson's use of the English language, his passion and his descriptions are unparalleled. And he did it all without a script or editing. His talent revealed itself in real time. I do rank him as a talented and unique wordsmith up there with the best.
And I do not say that lightly. In my man room, I have photographs of many great writers hanging on the walls. Among the visages of Ernest Hemingway, T.S. Eliot and C.S. Lewis is, you guessed it, Larry Munson.
Like thousands of other fans, I turned down the volume on the TV and turned up the radio to listen to him call a game. (And, yes, even when he was ten seconds ahead of the play on TV, I would sacrifice watching a play develop to hear his voice.) But it was not just the game that he called, it was his apt descriptions of other things. The man described weather as well as anyone I have ever heard. I still remember phrases like, "dark clouds gathering over the west side of the stadium, the threat of rain picking up" or "gorgeous, just gorgeous day, but very windy. I ruined a cigar just standing in the end zone watching warm-ups."
Munson called UGA basketball for years and even had an outdoors show. I embarrassingly cannot remember him calling a basketball game, but would love to hear an outtake of one or one of his fishing shows.
One final Munson moment I'd like to share is about a good friend of mine who grew up an adamant Georgia Tech fan. We were in my car on the way back from an event in 2001 when he indulged me by listening along to the UGA-Tennessee game when Munson made his famous "hobnail boot" call. The call did it for him and after that moment, he became a UGA fan. He has watched dozens of Georgia games with me and, yes, was one of the friends I had sitting with me at last week's Kentucky game.
I can't really say much more than that, except thanks Larry.
September 29, 2015
Resolve. Relentless. Resilience.
Repeat.
In memoriam of my Uncle Mike Maguire, who died Sunday
By the late 90s, my Uncle Mike's life hadn't turned out exactly as planned.
He was in his late 50s, divorced and commuting from his Newnan home to various offices he supervised that ran the gamut from Dunwoody to Dothan. Also, a lifelong back problem was worsening.
But you would be tough to find him complain.
As with most of us on this journey, you wind up where you are, not where you plan to be, you take the punches, you find a new road, you keep on, keepin' on as the old saying goes. As my granddaddy once told my Uncle Mike, "A man can't control what happens to him, but it is how he reacts to it that defines him."
I believe that and, if that is the case, Mike was defined well. He was a natural encourager, I never heard him complain and he always possessed a sense of humor and storytelling he loved to share.
Then with retirement on the horizon, things took a tragic turn.
Both of his sons died within two years of each other in the early 2000s. They had been toe-headed twins once, both playing classic league and high school soccer, both astute musicians and both great loves of his life.
After his second son died, many of us who knew Mike thought he would give up. I didn't think he would make it another year. I think if I was in his shoes that is when I would start drinking myself to death.
But that wasn't Mike. Mike didn't do that. Mike didn't surrender to the demons of self-pity. Mike didn't give up.
He finished out a long, stellar 30-plus year career in insurance management. He retired. He devoted his time to going to concerts and football and basketball games with family and friends. He especially enjoyed the Falcons and Chick Fil A kick off games and SEC title games with my dad and my Uncle Steve. I have a fond memory of experiencing a Tinsley Ellis concert with him.
Nope, Mike didn't give up. He kept on living and living as well as he could.
The lifelong back problem continually worsened, though, and pushed him homebound a couple of years ago. He relinquished his Falcons season tickets he'd had for 30 years. He began sitting out certain family functions. You could still visit him, find him on facebook or be part of one of his email chains. And even then, nary a shade of negativity. I still can't recall even then ever hearing him complain or sending out a vitriolic rant. He might have lost his family and his health, but he never lost his sense of humor. If he ever posted anything political, it always had a wry smile involved and most of his musings were on sports and music. He kept his chin up. He never gave up.
The last few weeks things got bleak very fast…He was shuffled from hospitals to other medical facilities back to hospitals…The brutal pains came….bandages and blood pressure…We had visits together under lonesome overcast afternoon skies in hushed hospital halls…And yet while he lay supine in the hospital bed, unable to feed himself, he vocalized plans for his next chapter, refined those plans and then refined them again sharing what he was going to do next after he got better. Where he would live. How life would change next. He still wasn't going to give up. He was readying himself for another chapter.
On Friday, though, the relentless fighter had taken enough punches. He said he was throwing the towel in. Saturday morning he told my father goodbye. Saturday afternoon, a group of us went to the hospital. We prayed for him. He said goodbye and then we said our goodbyes.
And then, in true Mike fashion, he prayed a beautiful prayer over us, full of humility and grace saying, "and God bless these people who love me so much though I don't know why."
A lesser man would've spent the last 15 years shaking his fist to the sky. A lesser man would've quit on this life a long time ago. A lesser man would've given in to all things that tempt us to give in to mask our pains and fears and heartaches. And I am not being critical. I consider myself a lesser man.
Uncle Mike was not.
I've got enough Mike Maguire sayings and stories to write a book of columns about. But that is for another day after his body has been buried beneath the cool, red clay Wednesday afternoon and we've said more goodbyes and shed more tears.
But as I trod along this path of life, I have learned a lesson by pure example from Mike Maguire.
'Never give up' might be an overused motto with some people, but when you see it lived as Mike Maguire did, its true meaning eclipses any paltry notions or worn out clichés.
Stay relentless. Stay resolved. Be resilient. Then repeat.
Never give up.
September 13, 2015
The slight smell
of the earth's damp decay,
is a signal
fall is on its way.
August 10, 2015
There is the sound of owls in the hollow darkness below.
And I wish they were a sign of something to come, or something that will pass
or a reason to remain calm. And yet I despise myself, because I know I have yet to glean a sign
From the rustle of Fox paws on dusty leaves
The scream of the blue bobcat
The hoarse caw of the crow.
I would like the life of a Pre Historic Pagan or an Old Testament Seer.
To be free of all of this reason and free will
and stuttered steps and half-prayers
To have my destiny ordered by signs.
in the calls of animals,
through burnt offerings and dreams and names in the night.
Instead, I fumble for my car keys,
creak open the door and turn
metal against metal
to drive into this day,
but I can't shake the tug of the Mystery,
because there is the sound of owls in the hollow darkness below.
August 2, 2015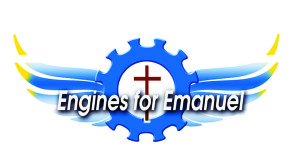 It was a Friday evening, a couple of days after the shooting at Mother Emanuel AME.
I was talking to my wife. We were trying to decide what we could do. Was there a vigil of some sort in the area? Should we go by our local AME church and lay flowers at the door? Should we go show our compassion by attending that church Sunday? Should we write a letter? Who would we write it to? What could we do? How do you fight against something that has already happened? What can you do in the face of such evil? Yes, evil – an unpopular word in these days of moral ambiguity and relativism – but there is not a more fitting word for what happened in Charleston.
We weren't sure what to do, but, I was tired. I was tired of talk. I was tired of the tears. Tired of the speeches. Of the photos.
My patience with seeing Darkness win the headlines all year had been taking a beating. I was sick of it.
I always struggle with good and evil and their place in our culture's consciousness, in the media, across social media and around us.
The old adage culled from many a newsroom cliché of 'It doesn't bleed, it doesn't lead,'  is more oftentimes true than not.
The older adage about bad news travelling ten times as fast as good news is truer yet.
The fact is there is goodness and good works that happen every day around us.
But you won't read about it or hear about it in most of the media. As I tell those who decry the faults and hypocrisy of religion – and God knows more than anyone else that there is plenty of it – no one writes about the volunteers at the local church cooking at the homeless shelter every week. Seldom is water cooler talk about the woman who volunteers her time to drive cancer patients to their appointments every week for the last few decades. Rarely does a facebook post talk about the food drives, the women's shelters, the drug rehab centers and the homeless shelters that people associated with The Church work on day after day, week after week, year after year.
Nope, wake up to the world and you get told everything wrong with religion: The preachers in mega Churches and their slick jets and fancy cars while their brothers and sisters starve on the streets. The vocal fringe that grabs headlines spewing hate, persecution and intolerance, all the entire and exact opposite of what Jesus Christ preached. The holier-than-thou deacons who use church as a country club and a way to network, instead of as a place to forgive and be forgiven. To learn and unlearn. To give and to receive.
Meanwhile, the real Good, the authentic work, the true toilers go unnoticed. Beneath the noise. Under the static.
And I was sick of the altruistic actions always being under the static. It was time for something to take place. But, again, I did not know what.
So when you don't know what to do, sometimes the best thing to do is to ask others. I sat at our computer and shot out an email to residents in my community, friends and to several leaders of influence in metro Atlanta. I got back some responses. Responses of hope. Responses of 'Yes, I agree, but what can we do?' And others of support, of encouragement, but many seemed as lost as me.
The evening passed. The influx of emails dwindled, then died. I was playing my guitar after dusk when my phone buzzed. I got an email from Dave Peterson, my brother-in-law and the president of the Moo Cow Bikers, a Chick fil A biker group. Dave had envisioned a motorcycle ride from Atlanta to Charleston. A ride to show solidarity and unity and love. A ride where the funds raised would be routed to help that church. He wanted 300 riders to raise $300 each to raise almost $100,000 for Emanuel AME.
I liked it. It was a loud idea. It was a bright idea. It was stunning. It was ambitious.
It was above the static.
As Dave and I shot emails back and forth one of the themes that was repeated was the sheer volume of the event. Dave said he wanted for Charleston to be loud with the sound of hundreds of bikers coming through town. Black and white. Old and young. Together, revving up their engines, sun shining off of chrome, the cacophonous coughing of a hundred engines reverberating through the streets.
The idea took off after that night. Dave reached out to riders and groups across metro Atlanta. Doug 'Doc' Russell, director of the South Fulton Faith Riders, joined the effort immediately. Now, what became, 'Engines for Emanuel' is a community effort. Bikers and biker groups from various backgrounds, races and ideals are joining this ride.  Local churches, elected officials and restaurants have given their support.
And media coverage is coming slow, but it is coming.
I hope, we're just getting started.
The ride takes place Aug. 22. You can get all the information here.
This is an opportunity to do something more besides moaning about the state of the world, posting memes on Facebook and burying yourself in the thousands of distractions around us.
This is a chance to punch Darkness in the mouth.
And get the Message out. Above the noise. Beyond the static.
June 7, 2015
Big Boy. Early Girl. Velvet Red. Snowberry. Red Star.
These are just a few of the distinctive names culled from the tomato family and each summer I am usually blessed enough to have a few of these tasty and wonderfully-named fruits grace my garden.
I have always harbored a special fondness for tomatoes and, especially, tomato plants. I imagine it began with the unique scent the plants possess and I have traced my affinity for it back roughly 40 years ago when I would spend a couple of weeks each summer at my Maguire grandparents' home in Thomaston, Georgia. There, each summer, my granddaddy (a gentleman farmer before the term became trendy) would labor like the devil to get any growth from that stubborn clay soil. As my grandmother reminisced on red clay, "We would dig a hole, fill it up with water, and then come back three days later and the water was still there."
Regardless of the stubborn soil or the heat, my granddaddy always coaxed several tomato plants from his garden. Spending time outdoors with him in and around his vegetable garden planted in my fertile mind a love for the sensory delights of tomatoes and their vines.
Through the years, my affinity for the homegrown red delights has only increased.
Around ten years ago, my wife and I moved next door to the late and great Henry and Iris Atkins of Smyrna. The Atkins not only taught me much about life and faith, but also awakened a dormant gardener in me by re-introducing me to the sublimity of a homegrown tomato.
I soon began growing my own and was addicted. If nothing else, I found a sublime peace in nostalgia by rubbing my fingers along the stems of the plants and then inhaling deeply, transporting my soul back to being a toddler at my granddaddy's feet as he picked and plucked and hoed his tomatoes.
During the last few years, my interest in the fruit (a term I still can't honestly say without thinking how is it not a vegetable) has expounded into the wonderful world of tomato varieties and, subsequently, their names. The Big Boys. The Early Girls. The Velvet Reds and literally the thousands of other names I don't have the space to mention.
I did a small amount of research for this column on the etymology of tomatoes and dug up some interesting facts.
>>>The tomato's Latin name is lycopersicum which means "wolf peach." Yes, wolf peach – and is derived from German werewolf myths. These legends said the deadly nightshade plant was used by witches and sorcerers in potions to transform themselves into werewolves, so the tomato's similar, but much larger, fruit was called the "wolf peach" when it arrived in Europe from South America. How's that for interesting? I am glad we stuck with the native moniker 'Tomato' instead of 'Wolf Peach.'
>>>The aforementioned native moniker is 'Tomatillo' and hails from South America. The tomato was introduced to Western civilization from that part of the world where we translated the name to its current form.
>>>All in all, there are over 7,500 tomato varieties that range from your basic beefsteak to your yellow maters, Romas and the endless variety of heirlooms and hybrids.
These days, we take the tomato for granted. It's in everything: Pizza, ketchup, Italian food, sauces, Bloody Mary's and hundreds of more foods. Our society also developed the hot-house tomato phenomena, which, though the taste is a pale comparison to the real deal, still finds its way to tables across America on a daily basis.
For me, I don't eat a lot of ketchup and order my food in restaurants without tomatoes. I will only eat them in the summer and if they are truly homegrown.
They not only taste better straight from the garden, but they're juicier and have more character in their shapes and sizes.
But, I suspect another part of it is that it takes me back to spending summers at my grandparents' home, piddling in the garden, the thick scent of tomato plants hanging in the humid air and a sense of wonder with the world. Somewhere as I dabble in my own plot, I imagine I try to catch a bit of that feeling. A lost stab at innocence and maybe even imagine the spirit of my granddaddy smiling on me.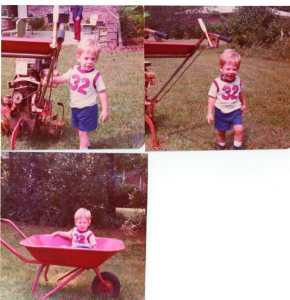 – this column was originally published in Cobb Life, June 2015