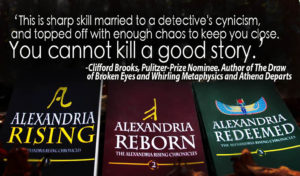 PRAISE FOR THE ALEXANDRIA RISING CHRONICLES!
"Mark Wallace Maguire takes back the authorial intent, tells a story like a man excited about it, and his humility in the truth of these facts is honorable. In the Mark Wallace Maguire uses dialogue-driven plotlines to naturally unfold twists and dark alleys without cryptic references or excessive force. You hear the mood in music prose rarely conveys. This is sharp skill married to a detective's cynicism, and topped off with enough chaos to keep you close. You cannot kill a good story." – Clifford Brooks, Pulitzer Prize nominee. Author of The Draw of Broken Eyes and Whirling Metaphysics and Athena Departs. 
"Mark Wallace Maguire not only writes a great story – I couldn't put it down over three days – but he writes a story that never scientifically walks away from the reader. Everyone can enjoy this story and keep up with what's going on around O'Neal. I applaud Maguire, too, because of his attention to detail. He did a phenomenal job with his research." – Scott Douglas Vaughn, author, "Brookwood Road" and "Elm Street"
2017 Finalist for Independent Author of The Year
2017 Georgia Author of The Year nominee
"I cannot thank you enough for giving me an opportunity to read your creation and becoming a part of this world!" – PS I LOVE THAT BOOK
"It was written very, very, well. The characters are deep and well laid out. The storyline is fascinating and told a magical and dangerous tale." – BOUNDLESS BOOK REVIEWS
The Alexandria Rising Chronicles began with the first novel, Alexandria Rising published in October 2016, then was followed with Alexandria Reborn in August 2017 and Alexandria Redeemed in February 2018.
The series has received high acclaim throughout the nation and abroad with sales in over ten countries. The books also earned the honors of Independent Author of the Year Finalist and Georgia Author of The Year nominee.
I appear at numerous signings and readings throughout the year. If you are interested in hosting me, please reach out.
You can find out more at www.alexandriarising.com and on amazon.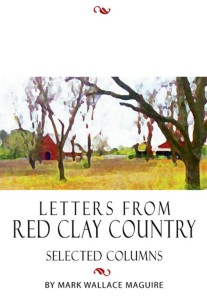 "Letters from Red Clay Country,"  is a selection of more than 20 of my most-loved columns and essays on Southern culture that were published in newspapers and magazines throughout a 10-year period. This collection includes award-winning columns about faith, fatherhood, football and family and has been described as, "A love letter to Southern culture and a reminder that there is much more to it than rednecks and rebels."
You can purchase it at select shops in the metro ATL and here on  amazon
'All in all a marvelous compilation' – Joseph E. Dabney, author of Mountain Spirits and James Beard Cookbook of the Year Award winner Smokehouse Ham, Spoon Bread, and Scuppernong Wine.
'Its brilliance is in its brevity and ability to touch the heart'-  Allen Bell, author, cultural omnivore, and Arts Education Manager at Georgia Council for the Arts