After performing and writing semi-professionally through the 90s, I am now happily retired to the studio where I serve as chief producer of The Music of Mark Wallace Maguire, a project that encompasses various bands and musical projects. In my role, I serve as the visionary, composer and multi-instrumentalist. Below are links to projects that have dropped since 2013. All the music is on itunes, amazon, youtube, soundcloud and Spotify. My music has also appeared in indie film, commercials and multi-media projects.
MAGUIRE/MEADOR/DENIG/BELL
What is Alexandria Rising Rhythms? 
>>>It is instrumental music inspired by the novel Alexandria Rising.
>>> It is a unique album as it was written, recorded and mixed in four cities  spanning thousands of miles apart during a 10-month span.
>>>It has drawn comparisons to soundtrack music, ambient music and psychedelic rock and broke new ground in the creative recording process.
>>> It is available on all streaming services, iTunes, amazon and such and for purchase here.
So who are the people behind the names? Here is a quick look: Mark Wallace Maguire – guitars, bass, synthesizers.
Clint J. Meador – drums, synthesizers, mixing and mastering. Glen Denig – bass.   Allen Bell- synthesizers.
So, let's get back to the origins of the process. Why make a music companion to the book? How did this evolve? What was the recording process like? Maguire dreamt up the idea of a musical companion to the book in Winter 2017 and began testing the waters to see if anyone was interested. He had released two musical projects inspired by books before, including the lauded, 'Art from the Silent Planet' music inspired by C.S. Lewis's Space Trilogy with the aforementioned Meador in 2015.
Maguire & Meador had also worked produced music for the podcast, '200 Seconds in Hell with C.S. Lewis' and as part of the score for the indie film, 'Tears of Bankers.'Maguire calls Meador, "a wizard in the studio and the true backbone of Alexandria Rising Rhythms."
Denig and Maguire had written and performed in bands and ensembles throughout the 1990s, in particular, the mercurial power trio, Green Tea Knives that toured in the Carolinas and Georgia in 1992 and 1993 and received airplay on various college radio stations.  Denig has played with every type of ensemble, band and choir imaginable and has been dubbed, "the world's best unknown bass player" by many, including Maguire.
Bell has been a regular on the music scene throughout the Southeast in an informal role and, formally, as an arts administrator on many state and federal levels. Bell has a good ear and was able to contribute more than his opinions to this project when he played synthesizer during a session recorded in Ellijay, Georgia in June 2017.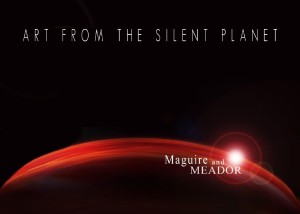 MAGUIRE & MEADOR
'Art from the Silent' by Maguire & Meador was released in January 2016. Each piece of music is based on themes and characters from the book, "Out of the Silent Planet" by C.S Lewis. This is an instrumental project aimed at creating a multi-media experience. It has been described as, 'space rock,' 'ambient' 'psychedelic' and 'trance.' This CD is a joint effort of myself and Clint Meador and we both play various instruments and roles that you can read about on our band page official CD page. This is the second CD of the planned trilogy of CDs inspired by C.S. Lewis's Space Trilogy. Here is a link to the song, Ransom Walks. Due to time and space constraints, this was recorded over a seven year period at locations in Smyrna, Ga. and Fayette County, Ga. Maguire & Meador's work has also been featured in the film, 'Tears of Bankers' which screened nationwide.
RED CLAY COUNTRY
This CD is a compendium of Southern Americana music featuring Jami Maguire and Adam Chesney on vocals and yours truly on guitars, bass and drums. It was recorded during a two year period at four locations throughout middle Georgia, northwest Ga. and northeast Alabama. Here is the link to the official music page: Red Clay Country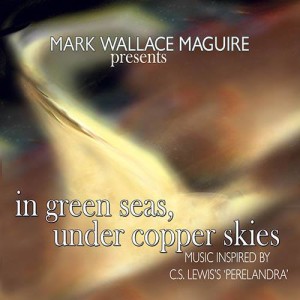 THE MUSIC OF MARK WALLACE MAGUIRE presents in green seas, under copper skies: Music inspired by C.S. Lewis's 'Perelandra' Perhaps the longest title in history of a CD, this project is part of the Space Trilogy musical project. It is an instrumental CD with each piece tying into a character or scene. It has been described as "experimental," "space rock," "soundtrack" and, even just plain weird for some. I've written a small piece explaining the idea behind this adventure on the page below.
in green seas, under copper skies page
 for updates, follow us here: